OLX – The Online Marketplace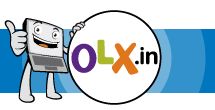 For the past few days I was looking for laptops and computers to buy at cheapest possible rates, preferably a second hand ones. So that I could get a better configuration in less price. So, I started searching for a few websites which can provide me a solution while sitting comfortably at home. Then, one of my friend told me that you really don't have to go and look out in market or ask every other person you meet for this there are websites for this, he suggested me with an example a website "olx.in" said yaha kuch bhi bikta hai, and indeed they sell almost every thing and the biggest advantage is that this is one of the biggest platform for classifieds in India, so we get a lot of varieties of product and services at very cheap rates.
So, I logged on to olx and started browsing their product and services relating to computers (which didn't even need any registration). To my surprise, there is also a section dedicated to cities which can provide city wise available product and services for offering, and there was even a section for Ambala Cantt which is relatively small city but my hometown, and I found great offers through this website. Finding good bargains in your own locality was never so easy.
Olx works in around 100 countries and is a very reliable website. They ventured in India in 2006 and now this website ranks among top 40 websites as per Alexa rankings. You can also browse the whole website anonymously or by registering an account and you can also buy and sell things on your own. This gives an opportunity to all those who are interested in earning online by selling off their things. You won't need to build your own infrastructure, all your offerings are just a click away from millions of users viewing that website.
Gone are those days when we used to lookup the daily newspapers for classifieds relating to our requirements, now we can simply open a website search for the things or just upload them whenever needed and the things will be sold or bought comfortably at home in just few clicks. It was really a fun activity to buy laptop without any problem at all and the delivery of product was also very fast.
Online shopping has really changed the way we do things and made shopping fast as ever!.