Fulfilling The Urge of Shopping is Now Easy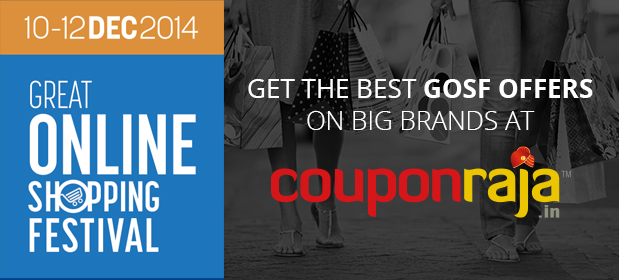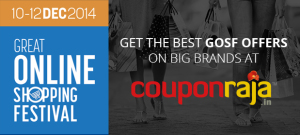 Shopaholics on the alert! Get set, and go! Yes, it has indeed turned into a race – a race of online shopping. It may be an occasion embraced shopping carnival or a clearance sale or simply just a season ending mega sale. On its way is another such colossal online shopping fest knownas the Great Online Shopping Festival or simply GOSF which is to take place from the 10th to the 12th of December 2014.
**** ****
What does GOSF do?
The GOSF is an initiative by Google and was launched on the 12th of December, 2012. Ever since then, it has been a favorite among its users. The GOSF offers are not only limited to those particular days of December but numerous trifle coupons, reminders as well as updates are also sent to your registered email ids all through the year. Along with these, there are funny little games on the GOSF site that provide you with innumerable opportunities to win yourself free gift coupons or free shopping facilities just by scoring points in the game.
**** ****
Worried about the products and their brands?
Worry no more. GOSF has partnered up with well known brands like fabindia, IndiGo, YepMe, Shaadi.com and so many more trusted brand names only to assure that each and every required product is made available to you
Apart from the assurance of quality of the products and services, GOSF has lucrative offers via the coupons they provide. These coupons are easily available through magazines or simply, online. When added with the provided discounts, these coupons simply spice up your shopping experience, helping you to save your money as much as possible.
**** ****
What is new right now with GOSF? (Current GOSF Offers)
**** ****
Playing the Game to win a GOSF Arrangement: It has already started from this 25th of November and shall continue till the 4th of December. The game is very simple. You need to select the category (stationery, shoes, clothing etc) and remember four listed products. For availing the GOSF offers, you need to play this game that checks your clicking speed.
Free Shopping of 14 minutes: 14 brands have agreed to partner up with GOSF and give away 14 minutes of free shopping to 14 lucky winners. You literally can shop till your pants drop and shop up to 2.5 lakh rupees.
Exclusive Launching of brand new products: Products that have never been witnessed on the floors of India will be launched exclusively via GOSF from the 10th to 12th December. Another awesome offer only and only by the GOSF.
**** ****
Besides these major offers, you can also avail the COD or even free shipping facilities. So what exactly are you waiting for again? Register now and be the first in queue to avail all these exciting offers put on air by the GOSF.